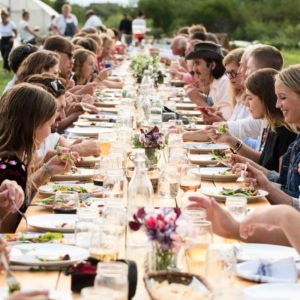 Foodies for Feathers
MRCC Hosts Raptor-Inspired Farm-to-Table Dinner 
Come celebrate with the Montana Raptor Conservation Center for an evening of al fresco dining raptor style! Foodies for Feathers is a unique gourmet experience featuring raptor-inspired delicacies made from locally sourced, seasonal ingredients served in a picturesque outdoor setting. The farm-to-table dinner will be held Friday, July 26th from 6:30 to 10:00 pm, in the orchard at Rocky Creek Farm.
Each course will begin with the chance to meet one of MRCC's resident birds of prey and learn about its species-specific behaviors and diet. The cuisine, designed by Seasonal Montana's Chef Mel, will parallel the lesson with a delicious twist: it's prepared for foodies, not wildlife. Exclusive wine pairings from Vino Per Tutti will highlight the flavors, including local protein and fresh produce from Gallatin Valley Botanical. Beer from MAP Brewing will also be available.
Diners will also have the opportunity to interact with some of MRCC's most beloved education birds, including Watson (American Kestrel), Bu (Great Horned Owl), 99 (Bald Eagle), Pilgrim (Turkey Vulture), and Millie (Peregrine Falcon).
Details
The event cost is $200. The July 26th evening begins at 6:30 PM. Dinner is served under the big blue Montana sky in the middle of the most amazing fields of delicious vegetables. The menu is written by Chef Mel and the Seasonal Montana team and inspired by what is in season. All ingredients are sourced locally.
This dinner will highlight produce from the farm and meat from a local ranch paired with wines by Vino Per Tutti and beer by Map Brewing.

About
Gallatin Valley Botanical is a small farm in Bozeman, Montana dedicated to organic production of high quality produce. They started their farm with a shared love of each other, eating well, and the earth and have been providing beautiful fresh produce to their community since 2003.
They sell their produce to restaurants and to Bozeman area farmers markets on a year round basis and have June to January CSA seasons.  They work with nature to maintain soil fertility and balance insect pest problems, using crop rotation, beneficial insect attracting plantings, composted manure, and cover crops. Their produce is planted, picked, and washed by themselves, CSA working members, and farm hands who are working with them to learn about small scale, direct market farming. They are continually working towards a financially and ecologically sustainable farm that can help feed their neighbors and build a community. Every year, they plan for a wide variety of clean, healthy, fresh veggies to be delivered weekly to neighborhoods in Bozeman, West Yellowstone, and Big Sky. Pick-up at the farm is also available.
Payment
We accept all major credit cards and checks made out to MRCC. Please mail checks to P.O Box 4061 Bozeman, MT 59772. If you decide to send a check please specify the name of the farm dinner you're purchasing tickets for and the names of your attendees.
Refund Policy
A lot of love and green energy has been applied to allow these events to be one of a kind. We apologize but we are unable to refund your purchase unless you (or we) are able to fill your seats.
Please note in SPECIAL INSTRUCTIONS FOR SELLER at checkout, who you would like to sit next to.